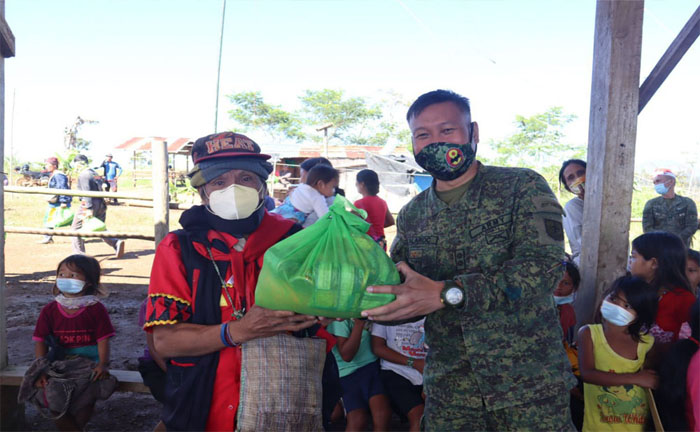 IMPASUGONG, BUKIDNON. December 18 – A total of 24 former rebels and their families received "Pamaskong Handog" from Local Government Unit (LGU) of Impasugong on December 16, 2020, at Headquarters, 8th Infantry Battalion (8IB), Impasugong, Bukidnon.
The "Pamaskong Handog" is a gift-giving program initiative of the Impasugong LGU intended for former rebels who decided to choose peace and finally return to the fold of the law. The program intends to make the former rebels feel the essence of Christmas and that they are cherished members in the society.
The activity was spearheaded by Hon. Maria Norley Pepito, Municipal Vice-Mayor. Hon. Meriel A. Almeda, Municipal Councilor, Sangguniang Bayan members, and Lt. Col. Edgardo V. Talaroc Jr., Commanding Officer of 8IB assisted the distribution of the gift packs to the former rebels who were very much elated to receive the gifts.
"Ako ug ang akong mga kauban nagpasalamat sa paghatag kanamo sa kini nga dungog bisan pa kaniadto nga nakahimo kami usa ka sayup nga desisyon," @Jasmine said as she emotionally expressed her gratefulness for the blessing she and her fellow former rebels received. (I, together with my former comrades are grateful for giving us this honor though in the past we've made a wrong decision.)
Meanwhile, Hon. Pepito motivated the former rebels as she said, "Gusto nako mahibal-an ninyo nga wala gyud kamo pasagdi sa gobyerno. Usa kami sa tinuud nga gobyerno. Karong Pasko gaksa ninyo ang gugma sa pagbalik sa sabakan sa gobyerno." (I want you to know that our government never neglected you. We are one with the real government. This Christmas, embrace the love while you return to the government.)
"Mapasalamaton ako sa walay hunong nga paningkamot sa lokal nga gobyerno sa among mga FR. Nanghinaot ko nga tungod sa ani nga programa, ang mga former rebels magsaulog sa Pasko nga malinawon, labi ka malipayon, puno sa grasya, ug gugma uban ang ilang mga pamilya," Lt. Col Talaroc Jr said. (I am grateful for the relentless efforts of the local government for our FRs. I hope that through this program, the former rebels will celebrate Christmas peacefully, happily, full of grace, and love together with their families.)