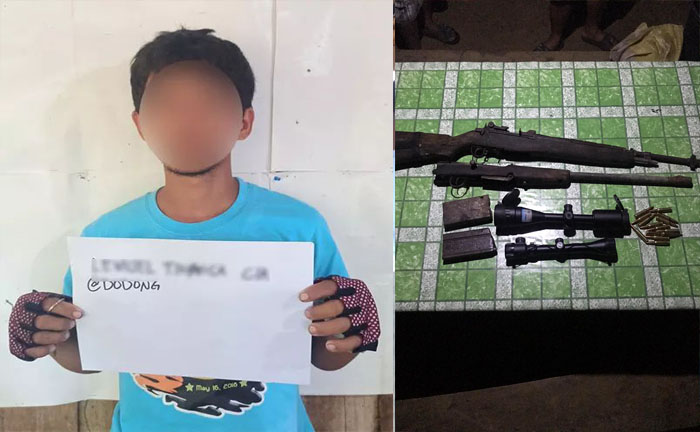 BUENAVISTA Agusan del Norte – Four (4) regular combatants of the Communist New People's Army (NPA) Terrorist (CNT) and one Milisya ng Bayan (MB) member in Agusan del Norte have decided to abandon the hopeless cause and ideology of the communist movement and surrendered to the troopers of 23rd Infantry "Masigasig" Battalion in Jamboree Site, Purok 6, Barangay Alubihid, Buenavista, Agusan del Norte.
The surrender came one day after the Communist Party of the Philippines (CPP) celebrated its 52nd anniversary last Saturday, December 26, 2020.
The four (4) NPA members were identified as Alias Else, 18, who brought one (1) caliber .30 M1 Carbine with one (1) magazine and three (3) live ammunition; Alias Dodong, 30, who also handed over one (1) caliber .45 pistol, Cal .45 Pistol with two (2) live ammunition, one (1) caliber .357 revolver and two (2) caliber .38 revolvers; Alias Rebo, 30; and Alias Indai/Bea, 23.
The MB member was identified as Alias Jimmy/Omar, 55, a resident of Barangay Durian, Las Nieves town who also surrendered one shotgun (ARMSCOR) with four (4) live ammunition.
Alias Else, Dodong and Rebo were active members of Sub Regional Sentro de Grabidad (SRSDG) SAGAY, Sub Regional Command 3 (SRC3), of the North Central Regional Committee, while Alias Indai/Bea served as the Finance Officer of SRC 3, NCMRC.
In his testimony, former MB member Jimmy/Omar admitted that he was already tired of serving the CPP-NPA but he cannot leave the group due to fear for his life and the safety of his family.
"Nahimo kung MB sulod sa pila ka tuig ug wala nakoy mahimo kun dili sa pag sunod sa mga mando ug sugo nila kanako. Bisan taliwala sa kadaghan nakog mga buluhaton sa matag adlaw, mo gahin gyod ko ug oras sa pag serbisyo sa walhong grupo bisan pa man wala koy nakuha nga suhol. Wala gyod silay naitabang sa akong pamilya ug sa among barangay. Nagdugang lang sila sa kapobrehon sa katawhan ug naghatag kalisang sa matag usa. Karon nga ilang gisaulog ang ilang ika 52 anyos nga anibersaryo, naka disesyon ko nga mo biya na sa kalihukan kay wala man nako nakita ang kadaugan nga kanunay nilang giingon sa amo ug wala man usab nila tumana ang ilang gipang saad kanamo. Nabutang lang hinuon sa piligro ang among mga kinabuhi. Nakita usab nako nga sensiro ang gobyerno sa pagtabang kanamo busa nga wala na gyod ko mag duha-duha pa sa pagbalik sa pagbiya sa kalihukan. Gitalikdan ko ang kalihukan kay gusto na ko nga mag puyo ug malinawon nga layo sa kasamok. Gusto nako maka baton ug bag-ong kinabuhi labi na niining umaabot nga Bag-ong Tuig," Alias Jimmy/Omar.
Lt. Col. Julius Cesar C. Paulo, the Acting Commander of 23IB welcomed the five (5) surrenderers and urged the remnants of the CNTs in the area to go back to the folds of the law and live peacefully with their families.
"I am glad that the members of the CNTs have recognized the sincerity of the government in helping the FRs and they have seen the deceptive tactics of the CNTs," Paulo said.
The 23rd IB commander added: "Inside the 52 years of CNT existence, they were claiming that they were the protectors of the poor but as we can see, they only manipulated and exploited the vulnerabilities of the people to elevate their status in life. Instead of providing the basic necessities of the people, they only extort and harassed them so that they will follow the orders given to them."
He further asked the remaining CNTs to start their new lives as the 2021 approaches by laying down their arms and return to their families. "Leave your chaotic life behind and live peacefully with your family. Set your goals in life in order to live prosperously in the upcoming years. Let us help one another to stop the CNTs from conducting rampant exploitation with their rotten ideology that kills the future of our nation," Paulo said