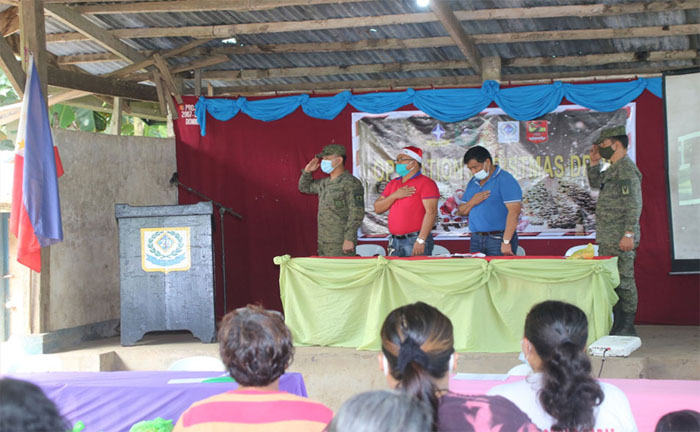 KITCHARAO, Agusan del Norte- On December 23, 2020, the Philippine Army through 29th Infantry "Matatag Fighters" Battalion in partnership with the Local Government of Jabonga conducted a Christmas Drop program in Sitio Apa-apa, Brgy.,Bangonay Jabonga, Agusan del Norte.
The said activity is a credit initiative of 4th Infantry "Diamond" Division Commander, MGen Andres C Centino for the people of conflict affected areas to feel that the government cares for them.
The activity was an integration of various sector of the government which includes the Philippine Army through the efforts of 901Brigade, 29IB and 30IB, the local government of Jabonga led by Mayor Napoleon M Montero.
The activity is also a part of 29IB's celebration of the Armed Forces of the Philippines 85th Founding Anniversary.
Food packs, toys, and clothes was distributed to more than 200 residents of Sitio Inayaw and Sitio Apa-apa, Jabonga, Agusan del Norte.
Hon. Marwin Serrano, Punong Barangay of Sitio Apa-apa said that "Akong dakong pasalamat kay ania ang mga kasundaluhan niduyog ug nanghatag ug regalo diri sa amua, nga ilaha ming gitagaan ug saktong pagtagad labi natong mga lumad. Daghan kaayong salamat." (I am very grateful that the troops are here to join and give gifts here in front of us, who have given us the proper attention especially our natives. Thank you very much. "
Mayor Napoleon Montero said that, "Ako nalipay nga nakita ko kamo nga nitambong aning activity sa atong Philippine Army, maswerte kita nga sa kadaghanang barangay napili ang Barangay Bangonay nga ilahang hatagan sa mga Christmas regalo maong manghinaut ako nga dili na kita magsupporta sa lain na grupo- sa NPA kay nagpaabot man gyud ang Philippine Army sa ilang tabang. On behalf of LGU Jabonga, we are very thankful sa Philippine Army nga napili nila ang Brgy. Bangonay niini nga programa. Again, thank you, Merry Christmas and good morning." (I am happy to see you attending this activity of our Philippine Army, we are lucky that in most barangays Barangay Bangonay has been chosen to receive Christmas gifts so I hope we will not support another group- the NPA because, the Philippine Army are here to help. On behalf of LGU Jabonga, we are very thankful to the Philippine Army that they chose Brgy. Bangonay to this program. Again, thank you, Merry Christmas and good morning."
According to Col. George Banzon, 901 Brigade Commander "Amo kini ang amo tagpadayon nga plano dinhi nato himoon ang ato pagpadayag, ang ato pagpaambit ng mga kasundaluhan sa mga taga Jabonga nan spirit nan pasko pagkatao ni Hesukristo. Ini dili kini kon solo nan mga sundalo, ang sundalo nahimo lamang nga instrumento para dad-on kini tanan dinhi sa inyo atubangan subay sa paglaon ni Mayor, ako nagahangyo kaninyo nga ugaling jaon pay inyo mga kilaya, lumon, amigo, classmate sa eskwelahan, na inyong hibaw-an nga nalingla pa gihapon nan mga NPA na muiban sa ila, muanib sa ila sa bukid para sa ila armadong pakigbisog, palihog ato sila salbaron. Dili nato pasagdan ang ato mga kalumonan nan nalinla ug nan hiwi nan mga istorya, hiwi nan mga pasalig."
("This is our continuous plan, to manifest and make you feel the spirit of Christmas, the birth of Jesus Christ. This is not just about the efforts of our soldiers alone, we soldiers are just instrument of the government to deliver all of these. Along with the hope of Mayor Montero, I am appealing to you if you know someone, friends and classmates in school who are deceived by the NPAs to go with them and join them in moving into the mountains for their armed struggle, please let us save them. Let us neglect our friends who are deceived by twisted words, by twisted promises."
Col. George Banzon emphasized that the residents can ask help and in return the troops are ever willing to help those whoever will seek help.