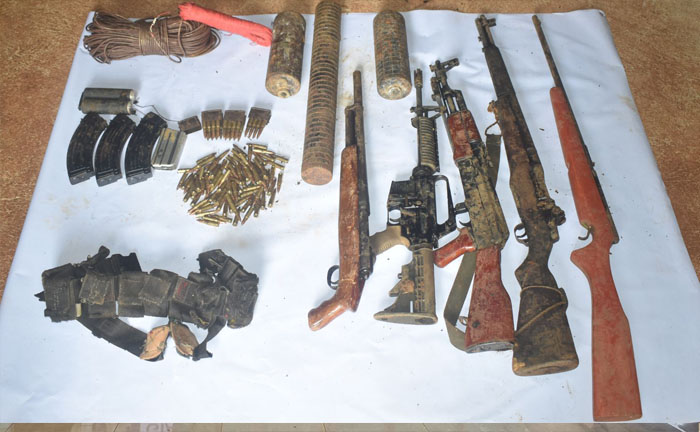 PLACER, Surigao del Norte— The government discovered an arm cache of the communist NPA terrorists (CNT) in the vicinity of Tugnawan, Sitio Little Baguio, Brgy. Payapag, Bacuag, Surigao del Norte, Sunday morning, December 27.
Based on the report, the 30th Infantry Battalion launched operation in response to the information revealed by a former rebel regarding the whereabouts of CNT's cache containing high powered firearms and war materials in the said area.
As a result of the operation, the troops recovered numerous firearms including one cal 5.56 AR18 rifle with SN BB777999; one AK47 Rifle with SN 5508081, one cal 30 M1 Garrand Rifle; one cal .22 Springfield Rifle with SN 2094577; one Hagen Shotgun; three (3) anti-personnel mines; 76 rounds 7.62 live ammunition for AK47; 31 rounds 7.62 live ammunition for cal. 30 M1 Garrand, assorted magazines; three magazines for AK47; 250 meters electrical wire; and batteries. The said war materials were believed to be owned by the elements of Guerilla Front 16, NEMRC.
In the statement of Col. George L Banzon, Commander of 901st Infantry (Fight'Em) Brigade, he said that the discovery of the firearms was a clear manifestation that many are displeased with the existence of the communist terrorists group (CTG).
"In most of our successful operations if it's not the civilians, it's the former rebels who disclose the whereabouts of their hideouts, cache and the likes. This clearly suggests that our people including the FR are disgruntled and tired of the CTG atrocities and they want to end insurgency," he said.
The Commander said that they will continue to pursue the remaining members of the CTG in order to ensure the safety and security of the communities in Surigao del Norte. He added that the remarkable gains in the counter-insurgency campaign in the province were the results of the convergence of efforts of different sectors of the society.
"We have achieved these gains because the local populace have seen and appreciated the efforts of the government in pursuing genuine peace by facilitating the convergence to address insurgency", he added.